"Activist of the Month, Chris Conrad" by Marc·Boris St·Maurice
Heads magazine, March 2005, p. 16 (photo: chris conrad)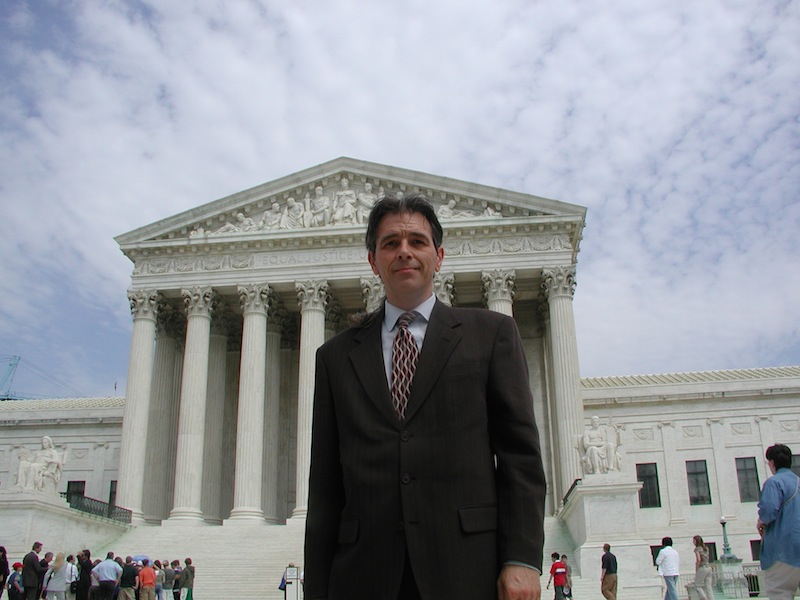 CHRIS CONRAD
This month's activist, Chris Conrad, is an author, political strategist, researcher and spin doctor whose work stands heads above the rest. Although you may have already noticed him writing this publication's Notes & News, Chris is by far one of California's most recognized figures in the marijuana movement.
Chris Conrad got his start [in cannabis activism] in 1988 when his niece returned from a DARE (Drug Abuse Resistance Education) meeting and he realized she had been told nothing but lies and bigotry. He promised to bring her the facts and after some research found out cannabis had over 50,000 uses.
He then created BACH (Business Alliance for Commerce in Hemp) to promote hemp's commercial applications. This led him to work with Jack Herer in 1990 writing the Emperor Wears No Clothes. A few years later he moved to Spain where he wrote his first book — an ode to the many uses of cannabis hemp — that would put him on the marijuana map forever, Hemp: Lifeline to the Future.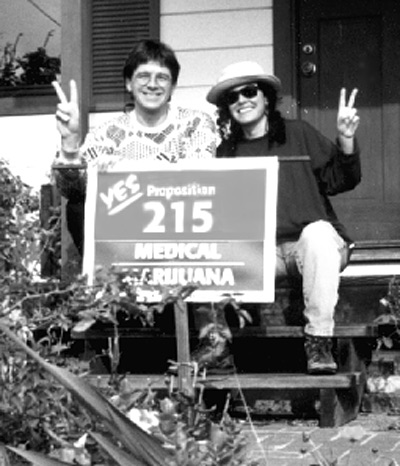 He then traveled and worked around Europe, first in Holland where he was curator of the Hash, Marijuana and Hemp Museum, then Switzerland to further his research and train with top growers. Upon his return to the U.S., he was working with his wife Mikki Norris and Herer on their own ballot initiative when they heard about Dennis Peron's similar project. Without hesitation, they joined on as the petition coordinators for volunteers in the campaign that eventually passed Prop 215, a voter proposition to legalize medical marijuana in California.
After that election, he started working as a court expert on marijuana. With Prop 215 now law, medical marijuana cases required an expert witness to tender evidence supporting medical use. His training in Europe was considered legal and, as he has never sold marijuana, he can testify without incriminating himself. All his efforts were paying off in a big way as he could now educate the courts properly about marijuana in a serious and credible fashion.
His work is not limited to the medical use; rather he considers every aspect of the plant. He splits the issue into three threads- industrial, medical and adult use-and has devised intertwined campaigns for each.
On the hemp front, The BACH campaign of the 1990s set out to restore the word "hemp" to its rightful place in the English language and saw the revival of industrial hemp throughout the world. Since then the hemp project has had global victories. In fact, the Hemp Industries Association's lifting of the hemp foods ban in the U.S. is the only legal reform to completely overcome the DEA's prohibition in federal court in 30 years.
On the medical front he was instrumental in legalizing marijuana in California. Over the years he has worked on hundreds of court cases, many of which have had dismissals or acquittals and in some cases led to Appellate and Supreme Court rulings.
On the recreational front he believes "nobody wants kids to get marijuana, but sending adults to prison for it is wrong. The use of ID to establish age is the only realistic way to protect children and respect adult rights. Allowing personal use and cultivation among adults of a certain age, say 18 or 21, then taxing and regulating commercial production and sales will remove the forbidden fruit allure and minimize negative effects on society."
This is why having responsible adults "come out of the closet" to shatter stereotypes and provide positive role models is so important to him. He concedes that the 2001 Supreme Court ruling that shut down the Oakland Cannabis Buyers Cooperative from dispensing medical marijuana was a major setback that opened the door for Bush to lead raids all over the state. But he remains undaunted.
When asked what advice he has for other activists he replies: "Pace yourself for a long campaign; keep your personal scene together; study your foes to learn from their methods and remember who they really are; look to what you can help others achieve; speak with confidence from the heart but have facts to back yourself up."
Professionally, he now spends most of his time testifying in various marijuana cases. Politically he works with Safe Access Now (SAN), a group trying to set medical standards in California that would allow three pounds of bud per patient and 100 square feet of combined garden canopy.
On the personal side, he has a lovely wife, an active social life, still writes and plays guitar and hopes to get back into painting and sculpting one day. Until then, you can find out more about his accomplishments, and even get involved by visiting his web site at www.chrisconrad.com .
Bibliography
Hemp: Lifeline to the Future
Hemp for Health: The Medicinal and Nutritional Uses of Cannabis
Shattered Lives: Portraits From America's Drug War
Nostramus and the Attack on New York
Human Rights & the US Drug War